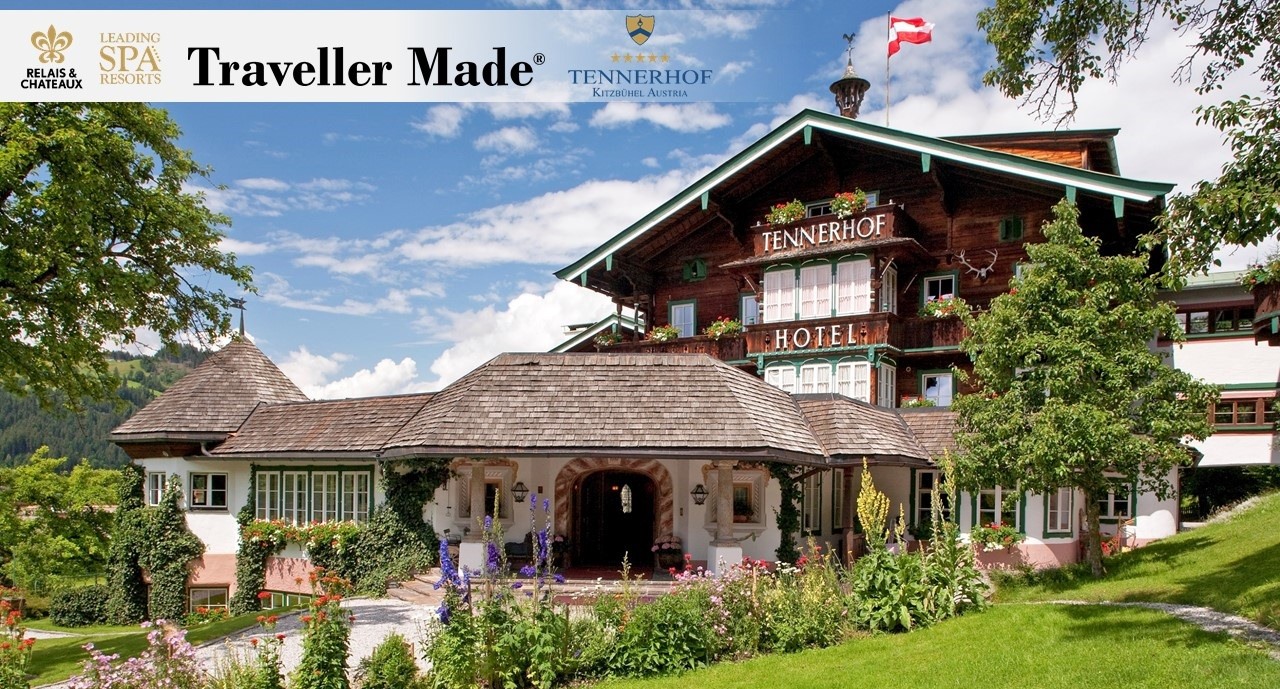 Griesenauweg 26, 6370, Austria
Griesenauweg 26, 6370, Austria
Tennerhof Gourmet & Spa de Charme Hotel
Our charming luxury hotel is the most individual and romantic 5-star facility in Kitzbühel. The Tennerhof is located on a hillside in the middle of a quiet garden and is privately owned by the Mag. Luigi von Pasquali family. The view from the hotel of the world-famous Tyrolean holiday resort of Kitzbühel and the panoramic view of the surrounding mountains are breathtakingly beautiful.
39 exclusive rooms and suites , furnished with antiques from the family property, ensure a feel-good atmosphere.
Experience exclusivity in our three new Tennerhof Luxury Chalets and Suites
Three  restaurants invite you on a culinary journey of discovery, including ours from Gault Millau for over 30 years excellent gourmet restaurant Tennerhof with head chef Johannes Denk.
In the Spa de Charme , member of Leading Spa Resorts and winner of the Leading Spa Award, with outdoor and indoor pool, saunas and steam bath as well as modern relaxation rooms, you can gather new strength for your everyday life.
In winter, the Kitzbühel region around the Tennerhof offers a true paradise for everyone who wants to go skiing, cross-country skiing, snowshoeing, tobogganing or just enjoy the winter. Experience very special winter moments in the Kitzbühel Alps including the famous Hahnenkamm and the notorious "Streif" and enjoy your winter holiday in Tyrol at the Tennerhof Kitzbühel.
Summer season 2021In summer you have the opportunity to go hiking, cycling and mountain bike tours from the Kitzbüheler Tennerhof Gourmet & Spa de Charme or to use one of the numerous golf courses.
The Tennerhof Kitzbühel offers you the ideal conditions to soak up the unique atmosphere of the Tyrolean Alps and the famous sports city and to reside in one of the most comfortable hotels in Kitzbühel.
We would be happy to advise you on your exclusive stay in the 5-star luxury hotel in Kitzbühel!
---
Arrangements in winter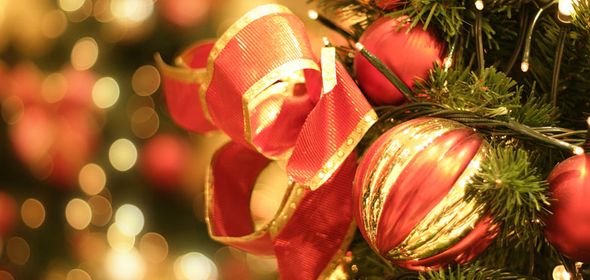 Christmas magic
Gourmet & Ski week
Arrangements in summer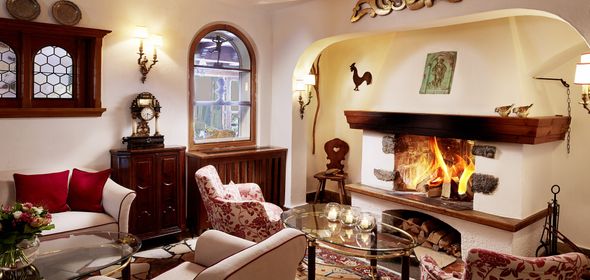 Time for US & ME
---
Your temporary home in Kitzbühel, which emphasizes your personality. The size and features are precisely tailored to your needs. Stylish luxury based on tradition, paired with today's comfort. Family charm and private atmosphere.
In the Tennerhof, no two rooms are alike, each one is individually furnished and timelessly beautiful. Antiques from the family estate harmonise with selected fabrics.
The lovingly arranged details give the hotel rooms, suites & chalets in our hotel a cozy and exclusive ambience for perfect hours and days at the Tennerhof in Kitzbühel.
---
Each menu is an excellent pleasure experience, accompanied by exquisite drops from our own wine cellar, served with award-winning service culture. The gourmet restaurant "Tennerhof" has been one of the best restaurants in the country for decades.
Chef de cuisine Johannes Denk combines the honest, natural taste of regional specialties with fresh ideas of international culinary art.
The creative kitchen team around head chef Denk is successfully continuing the more than 30 year old toque tradition at the Tennerhof.
---
Relaxing above the roofs of Kitzbühel – that is wellness at Tennerhof. The Spa de Charme, member of the Leading Spa Resorts, stages the interplay of the elements: here the water of the indoor pool, there the fire of the Finnish sauna, outside the cooling alpine air & the outdoor pool surrounded by the garden with ancient fruit trees, inside the feeling of being in the Panorama relaxation room and deeply relaxing in the Silent Sole room.
Pampering massages, relaxing peelings & soothing body wraps with Ligne St. Barth and Vinoble. Make up with Chanel cosmetics and OPI nail polish – exclusive products tailored for you! We are proud to have won the Leading Spa Award!
---
The chamois town of Kitzbühel in Tyrol in Austria is known worldwide for skiing and the
Hahnenkamm Race on the world-famous "Streif".
The Alpine region of Kitzbühel offers 230 km of perfectly groomed slopes, 100 km of cross-country skiing trails and countless fairytale winter hiking trails in winter.
Kitzbühel also offers a lot of leisure activities in summer. Mountain bike trails and hiking trails start right from the front door.
Kitzbühel is also a golf Eldorado. With 4 golf courses right in Kitzbühel and 30 more in the vicinity, every golfer's heart beats faster here.
---
Personal advice and service have been important to us for many years. "Grown hospitality" describes the philosophy of the Tennerhof  very well.
If you book directly, we will reward your loyalty and trust in our 5-star hotel in Kitzbühel. Best price guarantee, VIP Welcome, early check-in, late check-out, current availabilities and free upgrades. Your holiday and your personal stay with us at the Tennerhof Kitzbühel will be an unforgettable experience!
At home away from home – in your hotel in Kitzbühel
---
At the Tennerhof Gourmet & Spa de Charme Kitzbühel we attach great importance to your privacy. Our hotel guests will find unobtrusive and warm service from our staff in all areas of our Kitzbühel hotel. Hotel Tennerhof has been a member of the renowned "Relais & Châteaux" association since 2007 and is therefore one of the most beautiful 5 star hotels in Kitzbühel / Tyrol, Austria and around the world. You have often asked yourself "What exactly is Relais & Châteaux?"
You can find answers here! The newly renovated hotel wellness area "Spa de Charme" is a member of Leading Spa Resorts.
The luxury Tennerhof in Kitzbühel is a member of the legendary association"American Express – Fine Hotels & Resorts" , affectionately known as FHR.
Numerous hotels and accommodations in Kitzbühel are beautifully embedded in the picturesque alpine village, but the Tennerhof, in addition to its location, stands out from other hotels in Kitzbühel with its special flair:
We offer our guests 39 rooms, all of which are individual and timeless are nicely furnished – no two rooms are alike.
All rooms and suites in our hotel can of course be adapted to your individual requirements. All of the furniture and antiques in the Kitzbühel hotel come from the family.
The Kitzbühel luxury Tennerhof has developed character, charm and the cosiness that it still has today over the centuries. Since December 2017, brand new Tennerhof Luxury Chalets in Kitzbühel available.
Experience Kitzbühel – Exclusive arrangements and offers
---
So that you can experience Kitzbühel and Tyrol in all its facets and enjoy a holiday according to your ideas, the Tennerhof, a member of Relais & Châteaux , offers you offers and arrangements all year round  at an attractive price. A wide range of romantic, culinary, sporty or relaxing offers make your stay in our hotel in Kitzbühel an unforgettable experience. Treat yourself to a break from the hustle and bustle of everyday life with our relaxation arrangement, which includes wellness and massages as well as gourmet breakfast and dinner. Spend a gourmet ski week with us, characterized by sport in the wonderful winter landscape of Kitzbühel or enjoy romantic days for two with an atmospheric candelelight dinner, hikes in nature and use of the spa area of ​​our hotel. Visit our traditional 5 star hotel in Tyrol in winter or always in summer– always worth a trip! Kitzbühel can be easily reached both by car and by train. Two  Tesla charging stations and a universal electric car charging station are available to you free of charge – for an environmentally friendly trip! It is also possible to arrive by plane, e.g. via the nearby Salzburg Airport. On request, we will be happy to organize your transfer from and to the hotel in Kitzbühel. We are also happy to arrange a helicopter flight for you, both as an arrival / departure and for a day trip. Discover our exclusive offers and packages at our 5-star hotel in Kitzbühel / Tyrol.
In a nutshell: Your 5-star Hotel Kitzbühel in Kitzbühel / Tyrol
---
Convince yourself of our 5-star hotel in Kitzbühel in the best location with our  gourmet restaurant "Tennerhof" – awarded 4 toques and 17 points by Gault Millau, our exclusive "Spa de Charme" – member of Leading Spa Resorts and our fantastic view to the chamois town of Kitzbühel in Tyrol / Austria. Let our hotel team pamper you first-class and personally so that your break in our hotel in Kitzbühel becomes an unforgettable experience! Book your stay at the Tennerhof in Kitzbühel. You can also find personal insights and hotel reviews from our loyal hotel guests at our Kitzbühel hotel and our offers on  TripAdvisor. We look forward to reviews from our guests at our 5-star hotel in Kitzbühel.