Rasmushof Golf and Country Club
Rasmushof Golf Club at the Foot of the Hannenkhamm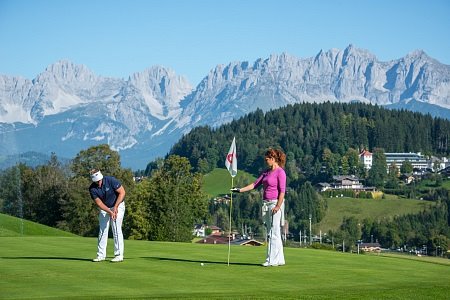 Hermann Reisch Weg 15Kitzbuehel, 6370, Austria
47.444654148495, 12.385067939758
Hermann Reisch Weg 15Kitzbuehel, 6370, Austria
47.444654148495, 12.385067939758
Vacation in the golf centre of the Alps
A golf holiday in Kitzbühel in the middle of the GLC Rasmushof – a holiday in Kitzbühel's best location.
With us you spend your vacation right on the course, in the middle of the lush green and surrounded by the Kitzbühel mountain panorama.
Our course is right at the foot of the world-famous Hahnenkamm, in the finish area of ​​the legendary Streif.
At the Rasmushof
9-hole golf course
covered driving range
Chipping area
Putting green
Academy
At the Rasmushof your holiday in Tyrol will be an unforgettable experience. Our reception team will organise your sporting holiday in Kitzbühel and will be happy to book tee times for you.
On our site, of course, there are always short start times free for our house guests.
A covered driving range as well as putting and chipping greens offer you the perfect raining opportunities.

Do you want to improve your game? Reach the handicap or tournament qualification? Our Golf Academy is at your side with two pros.
Instructors are also available for the younger generation. Children's golf is all about having fun playing. These courses are always fun.
Regularly or weekly tournaments are organized at the GLC Rasmushof, where our members and guests enjoy relaxing days with nice encounters.
A tournament day at the Rasmushof always ends in a sociable way in the restaurant, on the sun terrace or at our bar with the entertaining prize giving with great prizes.
Good to know: At the GLC Rasmushof you can already play with HCP 54 – great game!